Merry Christmas Presents, Everyone! Five Gifts for Groups
From office gifts to buying gifts for your extended family, buying Christmas gifts for large groups can be overwhelming. To save yourself some holiday stress, get Christmas presents no one will mind sharing. These five holiday treats are festively packaged and packed with our most popular candies and chocolates. There is plenty of merry to go round for candy (and Christmas) connoisseurs of all ages. 
The Perfect Gift for Christmas Parties –  The Holiday Deluxe Assortment
This assortment contains over four pounds of candies to help you spread some holiday cheer. 
In the  Holiday Deluxe Assortment groups can select from milk chocolate, dark chocolate and white confections of:
Chewy caramels
Nutty clusters
Mouthwatering meltaways and 
Soft center butter creams
Large English Toffee Brings Christmas Traditions Home
A Christmas favorite, Large English Toffee is a perfect Christmas gift that makes anyone feel at home. A traditional and timeless Christmas present, our gourmet English Toffee is available in one, two, and three pound gifts. Rich butter, premium almonds, and creamy chocolate come together in order to bring goodwill to all.
Chocolate Bites for the Family
Everyone will want a piece from this bucket of bite-sized bliss. It's a full pound of favorites in a holiday tin. This is a great gift for families with kids. Once the candy is gone, you can keep the tin for organizing markers or loose crayons all year. In the meantime, the Chocolate Bites snack pail is brimming with chocolate covered delights:  
Chocolate fudge bites (small bite sized fudge covered in milk chocolate)
Peanut brittle bites (peanut brittle covered in milk chocolate)
Peppermint meltaways, and 
English toffee
Holiday Gift Box, Assorted Grand for the Merriest Ho-Ho- Holiday Greeting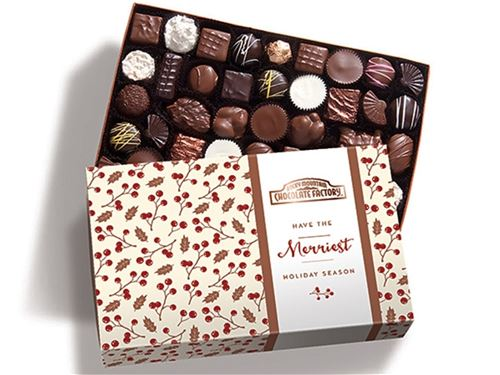 Leave a grand impression with this premium box of chocolates delivered directly to their door. Festively decorated, it reads "Have the Merriest Holiday Season" right on the box. Even Santa doesn't need to check his list twice to send this fabulous gift for Christmas. Slightly smaller than the Deluxe Assortment, the Holiday Gift Box Grand Assortment is three pounds of a little naughty and a lot nice.


Rocky Pop Caramel Popcorn For Holiday Movie Nights 
Snowed in or just gathering around a festive film favorite, Rocky Pop™ Caramel Popcorn puts those neon orange popcorn drums of childhood to shame. This is a decadent, caramel coated popcorn full of roasted almonds and pecans. Easily shareable, this crunchy, sweet delight comes in 12 oz., 24 oz., or 36 oz. portions. Slip on your jammies and leave the popping for bubble wrap. We have you covered.