Halloween Treats for Your Special Ghoul or Boy
Just because it's Halloween doesn't mean the treats have to start and stop at neighborhood doors. We want to help you celebrate autumn's most fun holiday. Save the tricks and send a special treat to your favorite little angels (and devils). Nothing is more fun than receiving Halloween chocolate (besides eating it!).
Below are just some of our spooktacular Halloween treats. Visit our special Halloween chocolate page to feast your eyes on the rest of our collection. Or, come visit us in one of your local stores.
The Halloween Chocolate Party Platter
Your party guests won't give any BOO hoos when you put out the Halloween Chocolate Party Platter. Salty, (insert comma) sweet and everything neat, these scary good treats include:
Monster Rocky Pop
Mini milk chocolate pretzels
Chocolate potato chip clusters
Bite Sized Dark Chocolate Favorites Ghost Box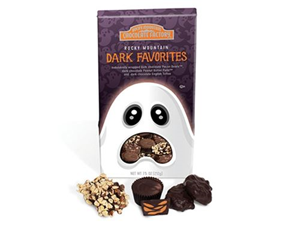 Vampire-bite sized dark chocolate Halloween Dark Favorites will thrill you to death! Diabolically delicious, these dark delights will quickly disappear. The selection includes English Toffee, Dark Bears, and the super popular Peanut Butter Pails. We have magically made our peanut butter orange—just to keep in high Halloween spirits. 
Caramel Apple Favorites
No kid wants to get apples in their trick-or-treat bag—unless they are Rocky Mountain Chocolate Factory caramel apples! These Fabulous Favorites are a perfect Halloween treat. The selection of Favorites include Plain Caramel Apple, Peanut Caramel Apple, Apple Pie Apple, and the frighteningly good Pecan Bear Apple.
Need an individual gift?  Choose from our collection of individual caramel apples. We have your caramel apple candy cravings covered! Additional toppings include English toffee, M&M's, Snickers, and more!
Halloween Milk Chocolate Candy Bars
Everyone will go  batty over the Rocky Mountain Chocolate Factory gourmet milk chocolate candy bars. It's no trick how fast these Halloween treats will go!
Choose from 4, 12, or 24 packs. Have them delivered straight to your office, school, or home.
Halloween Chocolate Gift Box
All the treats come together in this ghoulishly good chocolate gift box. The most bedeviling part is picking your favorite from the assortment. This box of chocolates (and caramels) has white chocolate, dark chocolate, and milk chocolate varieties. Deviously good, you may not want to share! Includes:
Buttercreams
Chewy chocolatey caramels
Molded gourmet chocolates
Meltaways
White Bear pecan-and-caramel patties
What to do with leftover Halloween Candy?
Did your little ghoul or boy make off with a treasure trove of Halloween candy? Chop up those extra candy pieces and use them as toppings for caramel apples. It's a great fun activity for the whole family.