Boxed Chocolate: The Perfect Gift for Everyone on Your List!
With the holidays quickly approaching, the same questions is on everyone's mind: 'How do I find the perfect gift for everyone on my list? What can I get them that they're sure to love?" If you're anything like us, holiday shopping can make you a bit anxious...but fear not! Rocky Mountain Chocolate Factory's boxed chocolate gifts are sure to wow all your friends and loved ones. From small boxes of our famous molded chocolates and chewy caramels to cases of boxed chocolates (for those larger gift buying needs), we have your holiday gifting covered! 
How Did Chocolate Become a Part of the Holidays?
Believe it or not, chocolate has been a part of the holidays long before the establishment of traditions we know and celebrate today. For instance, the traditional chocolate dessert, the Yule Log, has ties to the
 winter solstice (the shortest day of the year). In the Middle Ages, people would stay warm during this frigid time of year by using logs in fire pits or fireplaces. At the turn of the eighteenth century, heating appliances became more and more popular, ridding homes of the need for traditional fireplaces. Instead, these fireplace logs were used as Christmas decorations, and were often modeled into chocolate pastries that represented the kindling logs of the winters past. The Yule Log has been a quintessential chocolatey holiday favorite ever since. 
Chocolate has long been a favorite find for children and adults alike on Christmas morning. This tradition began in Lycia, which is modern day Turkey. Saint Nicholas, a bishop of Lycia, was a quiet man, known for his kindness- especially towards the children of the city. Legend has it that he once climbed onto the roof of a poor family's home and threw a purse of money down the chimney. The coins are said to have landed in a pair of stockings a little girl had hung up to dry. Over the years, this legend has morphed- today, children find chocolate coins and other chocolate candies as opposed to real money! 
It is safe to say that the holidays wouldn't be the same without chocolate. Looking to add a little chocolate cheer to your festivities? Check out these jolly holiday gift boxes- there is one for everyone on your list! 
Holiday Assorted Gift Box, 14.5 oz
This award winning gift box is filled with all of your favorites- a single layer of nutty clusters, melt-in -your-mouth buttercreams, chewy caramels, molded chocolate and meltaways, all in milk and dark chocolate or white confection...yum! This box makes the perfect gift for hostesses at holiday parties, teachers, and office mates- you'll be sure to go down in history! Case pricing (12 boxes per case) is also available on this delightfully delicious gift. Click the product photo to find out more! 
Holiday Deluxe Truffle Assortment
This truffle assortment is sure to get everyone in the holiday spirit! With its festive gift box and tree shaped arrangement, it is perfect for everyone (even Scrooge). This box includes ten festive truffles: milk chocolate, semi-sweet, sugared cranberry, ancho chile, iced cappuccino, amaretto, French vanilla, red velvet, and hazelnut. Have you ever wondered where truffles got their name? Read on to find out. 
What Exactly is a Truffle?
Sometimes called the "crème de la crème of chocolate", a truffle is a type of chocolate confection found in many chocolate shops throughout the world, including Rocky Mountain Chocolate Factory (see our Holiday Deluxe Truffle Assortment). The truffle originated in Europe and is named because the shape resembles the edible part of the tuber fungus, which pigs and dogs are trained to sniff out and dig out of the ground- this edible section of fungi is also called a truffle! Truffles of the chocolate variety, however, are quite a bit different than the fungi. Truffles are typically made up of a milk, dark chocolate, or white confection shell, and filled with a ganache (a chocolate based cream) which can be flavored with endless possibilities! 
Holiday Grand Assortment, 3 lbs. 
There's nothing better than making a great impression, especially during the holidays. When you bring this Holiday Assortment, your impression is sure to be nothing short of grand. This festive holiday gift box is filled with three pounds of bite-sized happiness, including molded chocolates, chewy caramels, nutty clusters, meltaways, and soft center buttercreams. The holidays don't get any better than this!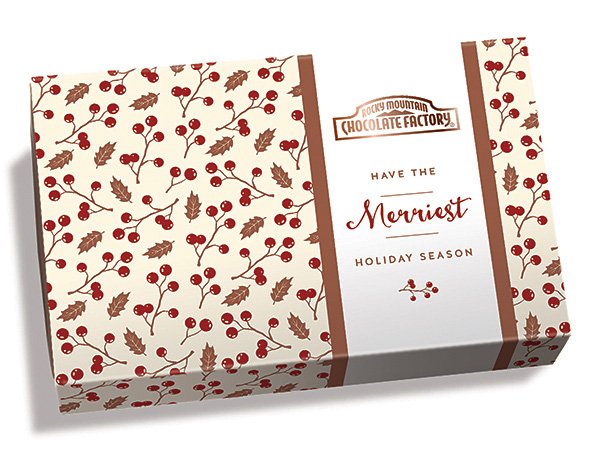 The holidays are such a special of year, spent with people who are special to us. We here at Rocky Mountain Chocolate Factory with you all the best this holiday season. May your holidays be all that...and a box of chocolates!